Why POE Cameras Maximize Your Home Security
In today's digital age, home security has become an essential aspect of maintaining a safe and protected living environment.
When it comes to surveillance cameras, Power over Ethernet (PoE) cameras have emerged as a reliable and efficient solution for improving your home security.
POE IP cameras (Power over Ethernet), are a type of surveillance camera that combines Power over Ethernet (PoE) technology with Internet Protocol (IP) connectivity.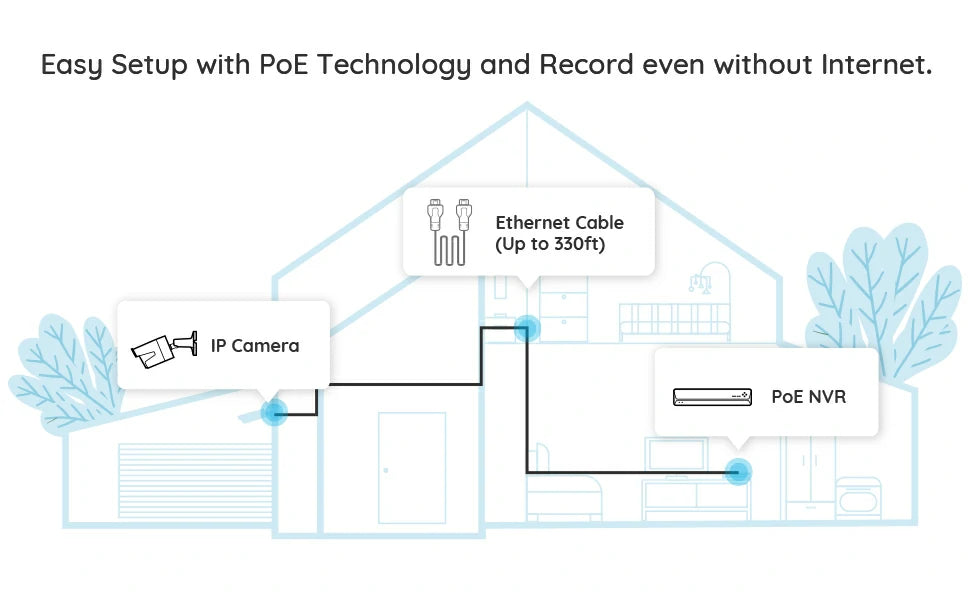 How POE cameras work?
POE cameras receive power and transmit data over a single Ethernet cable. They eliminate the need for separate power cables and outlets. POE technology allows power and data transmission over Ethernet cables.
They can be powered by PoE-enabled switches or injectors. The camera connects to the network switch or injector using an Ethernet cable. Power and data signals are sent over the cable.
POE cameras operate within power consumption limits. They simplify installation, reduce cable clutter, and offer flexibility in camera placement.
Poe (Power over Ethernet) cameras offer several advantages that make them reliable for maximizing home security.
Here are some reasons why Poe cameras are considered more reliable: 
1.Enhanced Coverage:
POE cameras simplify installation by using a single Ethernet cable for power and data transmission, enabling flexible placement even in areas without nearby power outlets. 
They have a wider coverage area and maintain network connectivity without signal loss through Ethernet cables. 
By strategically positioning POE cameras, they effectively deter security issues and offer flexibility for longer distances using Ethernet cables. 
In contrast, Wi-Fi cameras rely on a limited Wi-Fi range, which can be affected by obstacles and signal interruptions.
POE cameras provide a stable and reliable connection, making them a convenient and efficient solution for surveillance systems with extended coverage capabilities compared to Wi-Fi & traditional CCTV cameras.


Common PoE standards, such as IEEE 802.3af and IEEE 802.3at, support a maximum distance of approximately 100 meters (328 feet) using Cat5e or Cat6 Ethernet cables. However, by utilizing PoE extenders or switches, the transmission distance can be extended beyond 100 meters, reaching up to 150 meters (492 feet) or more.
This capability of PoE cameras to transmit data over longer distances demonstrates their advantage over Wi-Fi cameras, which typically have a range of around 30 to 90 meters (98 to 295 feet) indoors, depending on factors like signal strength, interference, and obstacles. 
 2. POE cameras offers uninterrupted surveillance:
PoE (Power over Ethernet) cameras provide uninterrupted power supply through same ethernet wire that eliminates the need of power source near each camera, ensuring continuous surveillance coverage even during power outages or malfunctions.
With redundancy and backup mechanisms like redundant power supplies or backup batteries, your cameras will always have a reliable power source, safeguarding your home for 24/7. 
An efficient power management system prevents overload and minimizes downtime. The consistent surveillance offered by POE cameras helps in capturing acts of vandalism, property damage, or graffiti, identify perpetrators and share the footage with law enforcement, serving as a deterrent for future incidents. 
3.Use of Ethernet improves data transmission
POE cameras have distinct advantages in data transmission compared to other camera types like Wi-Fi or analog cameras. They connect directly to the Ethernet network using an Ethernet cable, providing a reliable and stable connection without the risk of signal interference or dropouts. This ensures consistent and uninterrupted data transmission.
Additionally, POE cameras benefit from Ethernet's high-bandwidth capabilities, allowing for efficient transfer of large data amounts and capturing high-resolution video footage with minimal latency or loss of quality.
They also leverage advanced Ethernet protocols, such as secure HTTPS, for data encryption and protection.
Ethernet-based POE cameras offer flexibility in camera placement by supporting longer distances between cameras and network devices while maintaining network connectivity. 
Furthermore, Ethernet seamlessly integrates with existing network infrastructures, enabling centralized management and control of the surveillance system. Overall, Ethernet significantly enhances data transmission in POE cameras, making them a reliable and efficient choice for surveillance systems.
4.Expand security camera with least impact on performance:
POE cameras seamlessly integrate into existing network infrastructure using PoE switches or NVR switches, allowing for the addition of new cameras without extensive modifications.
Unlike wireless or analog cameras with limitations in signal strength and interference, POE cameras leverage existing wired network infrastructure for seamless expansion. They also outperform analog cameras by eliminating the requirement for separate power and video cables.
The use of Ethernet cables for both data and power streamlines the installation process, eliminating separate power cables requirement, hence optimizing your budget while expanding security systems.
With centralized management provided by NVR or VMS systems, monitoring and configuring multiple cameras becomes intuitive.
Additionally, POE cameras ensure compatibility with various brands and models, enabling the mixing and matching of cameras or upgrades while maintaining a consistent POE infrastructure.
Overall, POE cameras provide a convenient and high-quality solution for expanding surveillance coverage while simplifying system management.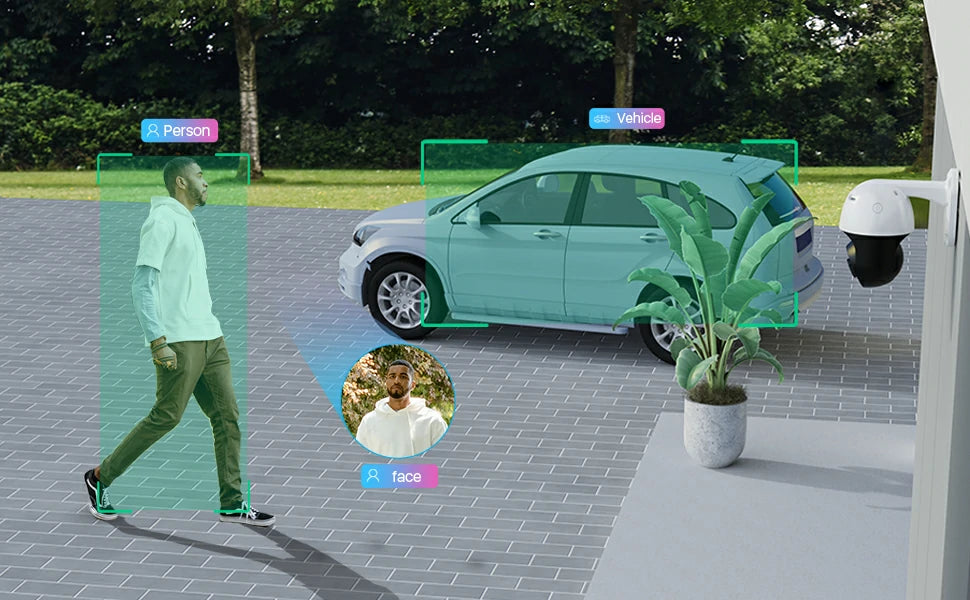 5.AI integration offers comfort & enhances control:
The AI human body detection feature accurately identifies and alarms only when human bodies are detected, reducing false alarms. They quickly alert potential intrusions via email or dedicated apps, ensuring swift response for premises safety.

POE cameras with AI motion detection can effectively capture fast-moving objects like car, number plates, enhancing the effectiveness of your security system.

POE AI cameras utilize colorful lights as deterrents to potential intruders, effectively discouraging illegal activities.

The vibrant lights serve as a visual warning, making individuals think twice before engaging in any unauthorized behavior, thus enhancing the overall security of the premises.

The two-way audio feature enhances home security by enabling real-time communication with individuals near the camera. This way you can communicate with your family members or interact with intruders to warn them.

Advanced POE cameras with AI capabilities accurately identify and record faces, track unauthorized personnel, and detect suspicious faces, providing proactive alerts and valuable evidence for enhanced security.
6.Integration with Other Systems
PoE cameras can seamlessly integrate with other security systems, such as access control or alarm systems. This integration enables enhanced functionality, such as triggering specific actions or events based on camera detections or alarms.
7.Overall, POE cameras/system are durable:
POE cameras are renowned for their exceptional durability. Built to withstand diverse environmental conditions, they offer reliable performance over an extended period.
Opting for waterproof (IP66) security cameras ensures added protection and longevity.
With minimal wiring requirements and strong network capabilities, POE cameras are a preferred choice for long-lasting surveillance solutions. 
Some commonly faced home security issues & tips to handle them: 
Burglary and break-ins:
Install visible cameras as deterrents.

Connect the system to receive real-time alerts.

Integrate with a security alarm system.

Regularly check surveillance footage.
Package theft:
Position cameras to cover delivery areas.

Consider using a video doorbell.

Opt for secure drop-off or neighbor delivery.

Request delivery to a secure location.
Vandalism and property damage:
Install cameras discreetly or with vandal-resistant housing.

Position cameras out of reach.

Regularly inspect equipment for tampering.

Use surveillance signage to deter vandals.
Unauthorized access and hacking:
Change default usernames and passwords.

Keep firmware updated.

Use a secure Wi-Fi network with a strong password.

Monitor the network for suspicious activity.

Consider using a firewall or separate network.
Privacy concerns:
Configure cameras to capture only your property.

Communicate surveillance to visitors and neighbors.

Comply with local laws and regulations.
Conclusion:
With their simplified setup, flexibility, and scalable capabilities, PoE cameras offer a robust surveillance system, ensuring that your home remains under constant watchful eyes.
Whether you're concerned about intruders, monitoring your property remotely, or simply seeking peace of mind, PoE cameras stand out as a trustworthy option to fortify your home security measures.
If you still need guidance in choosing security cameras, feel free to contact us.