iCsee : Free App For Smart Security Cameras

The widespread use of surveillance cameras in many households highlights their importance in ensuring security and peace of mind. With the ability to control these cameras through a smartphone app, we aim to provide unparalleled convenience for all users.
We proudly present the iCSee app, designed specifically for our surveillance cameras.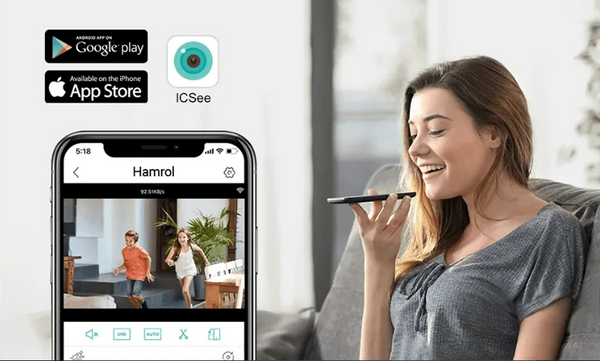 Real-Time Monitoring and Playback
Through the intuitive mobile app interface, you can easily access live video feeds from your surveillance cameras in real-time. Whether you're at work, traveling, or simply in another room, stay connected and keep an eye on your property at all times. Additionally, the app allows you to review recorded footage, enabling you to play back any important events or incidents that may have occurred.
 Customizable Alarm Zones and Schedules
One of the most powerful features of app-controlled surveillance cameras is the ability to set up customized alarm zones and schedules. By defining specific areas within the camera's field of view, you can receive instant notifications and alerts whenever motion is detected in those designated zones. Moreover, you have the flexibility to schedule when these alerts are active, ensuring that you're only notified during specific times of the day or night.
App Notifications and Alarm Sounds
Stay informed and take immediate action with app notifications and audible alarm sounds. Once motion is detected within the designated alarm zones, the app sends instant push notifications to your smartphone or tablet. You can also choose to enable audible alarm sounds, which serve as an additional deterrent to potential intruders. This feature ensures that you're promptly alerted to any suspicious activities and can respond accordingly.
App-controlled surveillance cameras allow you to securely share live video feeds and recorded footage with multiple users. Whether it's family members, neighbors, or even your security provider, you can grant access to authorized individuals, enabling them to view the camera feeds remotely. This feature fosters a collaborative approach to security, as it allows everyone involved to stay informed and actively contribute to maintaining a safe environment.
And we have recently implemented some exciting updates. Let's delve into the new features: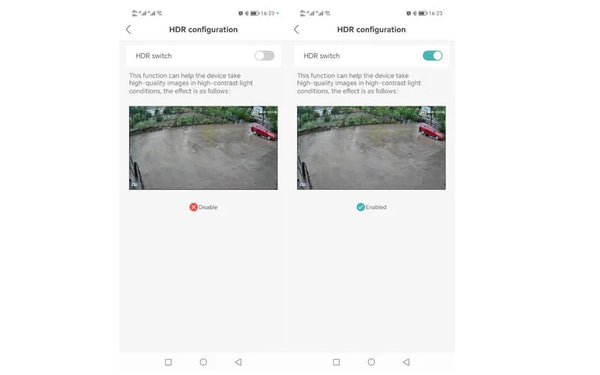 Wide Dynamic Range Configuration
With the introduction of the "Wide Dynamic Range" setting, the app automatically optimizes video quality and enhances preview effects when monitoring scenes with high contrast lighting conditions.
To access this feature:
Settings → Advanced Settings → Wide Dynamic Range Configuration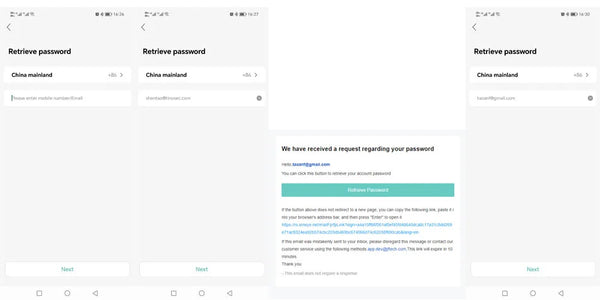 Enhanced Account Registration and Password Recovery Process
We have streamlined the account registration and password recovery process, making it more efficient and user-friendly. By utilizing email registration and password recovery links sent directly to your inbox, you can now register and recover your password with a single click, enhancing overall operational efficiency.
The process for email registration and password recovery follows the same seamless approach.
Improved Device Sharing Page UI
We have enhanced the device sharing page by adding a feature that allows you to save QR codes directly to your smartphone's photo album. Moreover, the QR codes are now larger, facilitating easier and more convenient sharing operations.
Enhanced App List User Interface
We have optimized all list interfaces within the app, adjusting height and font size to enhance the overall viewing experience. For example, the settings interface has been improved to provide a more user-friendly layout.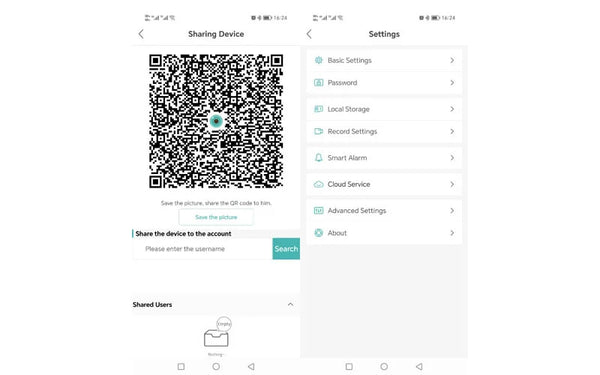 Alexa Reverse Jump Support
We are thrilled to announce that our app now supports Alexa reverse jump functionality. This means you can directly operate the iCSee app from the Alexa app, enabling account authorization and binding. This new connection option enhances the overall user experience, giving you more flexibility and control.
Alexa is a smart voice assistant developed by Amazon that allows users to connect and control various smart devices. When it comes to surveillance cameras, integrating them with Alexa devices, such as Echo Show or Echo Spot, enables users to operate and view camera images and videos using voice commands.
As an experienced surveillance expert, let me explain the approximate functionality and basic operation of Alexa-enabled surveillance cameras to you can be done.
Remote Viewing: With Alexa, customers can enjoy the convenience of instant live video feeds from their surveillance cameras by simply uttering voice commands like "Alexa, show the front yard camera." This remarkable feature eliminates the need for a smartphone or dedicated app, providing effortless remote monitoring.
Smart Alerts: Leveraging Alexa's capabilities, users can configure intelligent alerts to their specific needs. By defining monitoring areas, such as the front door or backyard, via voice commands, customers receive timely alerts and can swiftly access pertinent images or videos upon detecting any activity.
Voice Control: Alexa devices furnish users with remarkable voice control capabilities for their surveillance cameras. Users can effortlessly issue voice commands to perform specific functions such as camera rotation, zoom adjustments, or video recording initiation.
Security and Privacy: It is imperative to underscore the paramount importance of security and privacy when discussing Alexa-enabled surveillance cameras. Customers deserve to be well-informed that their data and video streams are meticulously encrypted during transmission, ensuring utmost confidentiality. Furthermore, they retain complete control over the camera's connection to Alexa through customizable settings, guaranteeing their privacy preferences are respected.
Alexa Integration: Once the camera is meticulously set up, customers can seamlessly enable the corresponding Alexa skill or app designed for their specific camera brand/model. This enables Alexa to effortlessly discover and establish a connection with the camera.
Voice Commands: Customers can seamlessly harness the power of their camera's Alexa functionality by effortlessly speaking voice commands to their Alexa device. For instance, they can effortlessly say, "Alexa, show the backyard camera" to gain access to the live feed or "Alexa, stop the camera" to pause the ongoing video.
By integrating surveillance cameras with Alexa, customers are bestowed with the ultimate convenience of voice-controlled operation and remote viewing, thereby elevating their home security and monitoring capabilities. It is crucial to provide specific instructions and resources tailored to the brand and model of the surveillance camera, enabling customers to effectively set up and harness the full potential of Alexa's functionality.
We remain committed to continuously enhancing the functionality and user experience of our icsee app. With these updates, our goal is to deliver a seamless and efficient home surveillance solution that not only meets but exceeds your expectations.
Download the latest version of the icsee app now and unlock the full potential of your surveillance cameras. Stay connected, stay secure!
Note: This product description is a fictional creation designed for demonstration purposes. The icsee app and its featured functionalities mentioned here do not reflect actual products.