Is wired or wireless better for security?
 Is wired or wireless better for security? Security has always been a trending topic, surveillance at home or in the offices is increasingly ubiquitous for the sake of safety.
PoE cameras and Wi-Fi cameras are regarded as two common surveillance camera options. What are their differences? What about their advantages and disadvantages? And how to choose between them?
Firstly, let's see what is the most different.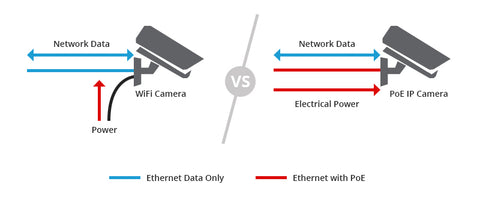 WIFI Camera need to connect extra power to use,no need to connect by lan cable to get online. but poe camera with the introduction of Power-over-ethernet (PoE) technology, both power and internet connection will be realized with one single cable.
Therefore, If your home or company is small , wifi camera is better choice to use, easy to install by wifi .
But if your home and company is very big, then poe kit is your best choice! It support max 100 lan cables to connect to nvr to use, more stable, and we have 8ch, 16ch type to select, all cameras can see on a same screen with different windows!
Check more details about our best poe ai kit, you will be suprised by its hight quality and cheap price.
POE (Power Over Ethernet) refers to the ability to provide DC power to such devices while transmitting data signals to some IP-based terminals without any changes to the existing Ethernet Cat.5 cabling infrastructure. This technology is also used in security products, which greatly facilitates our lives. If you are considering to buy a POE NVR system with AI camera, Techage 4CH 5MP POE NVR Two Way Audio Outdoor Video Security Surveillance Set is perfect for you.
Real-time Two-way Audio Communication: Camera has built in Microphone and Speaker. Never miss a moment with your family.

Motion Detection & Email Alert & Alarm Sound: When someone breaks into shooting area, the camera will make alarm sound and alarm messages will be pushed to your Phone APP.

2PCS White LED Lights: When it motion detect , the 2 Leds will light.

9 Kinds Alarm Sound for Option (only Support English Sound)

AI Human Body Detection Alarm, New AI Camera, Human Body Motion Detection: Only when Someone pass the Alarm area , the camera will send alarm message, Increase alarm accuracy.

5MP IP Camera VS 4MP IP Camera: Capture Super Clearer Images.

POE Advantage, Why Choose POE? Don't need extra power cables or adapters or switch. Plug And Play and easy setup. Save Money and Convenient, POE NVR = NVR + POE Switch

Techage 48V POE CCTV System: Max support 100 meters transmission distance.

Install and Connect it: It can be quickly and easily setup by anyone. Instantly see live video using your computer, tablet, or phone from anywhere. Don't need extra power cables , adapters or switch.

IP66 Waterproof Security Camera: Our camera all can suit for both outdoor and indoor usage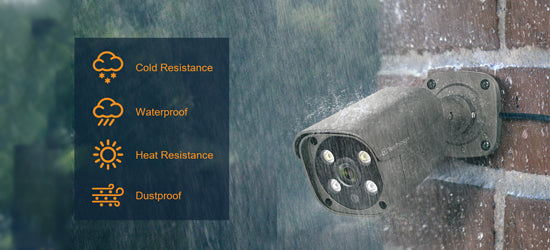 Video With Smart Playback: Smart playback available with customizable searching area, playback time is greatly reduced by speeding through unimportant videos.

Remote Access Anytime, Anywhere: Based on P2P (peer to peer) technology, support plug-and-play installation. Access the IP camera through its web interface via Internet Explorer, also comes with a free smartphone App (Android & iPhone) for remotely view from anywhere.

Support iOS and Android Device Access: Scan QR-Code to login. Download free app in Apple App store / Google play.

Mobile Phone Setting: Easy setting, just 6 steps for mobile phone viewing (Android and iPhone iOS)
Click link to get: 
https://www.techage.com/products/techage-8ch-5mp-poe-nvr-two-way-audio-outdoor-video-security-surveillance-set
Good luck!