Why are dual-lens security cameras ideal for better focus & visibility?
In the field of surveillance applications, dual-lens security cameras have emerged as a transformative technology, revolutionizing the way we capture and monitor our surroundings. With their innovative design and advanced capabilities, these cameras offer a plethora of advantages that significantly improve focus and visibility. By incorporating two lenses working in tandem, dual-lens cameras deliver unparalleled image quality, depth perception, the field of view, low-light performance, image processing capabilities, additional features, flexibility, and adaptability. In this comprehensive article, we will explore the numerous benefits of dual-lens security cameras, providing a detailed analysis of each aspect and its impact on surveillance effectiveness.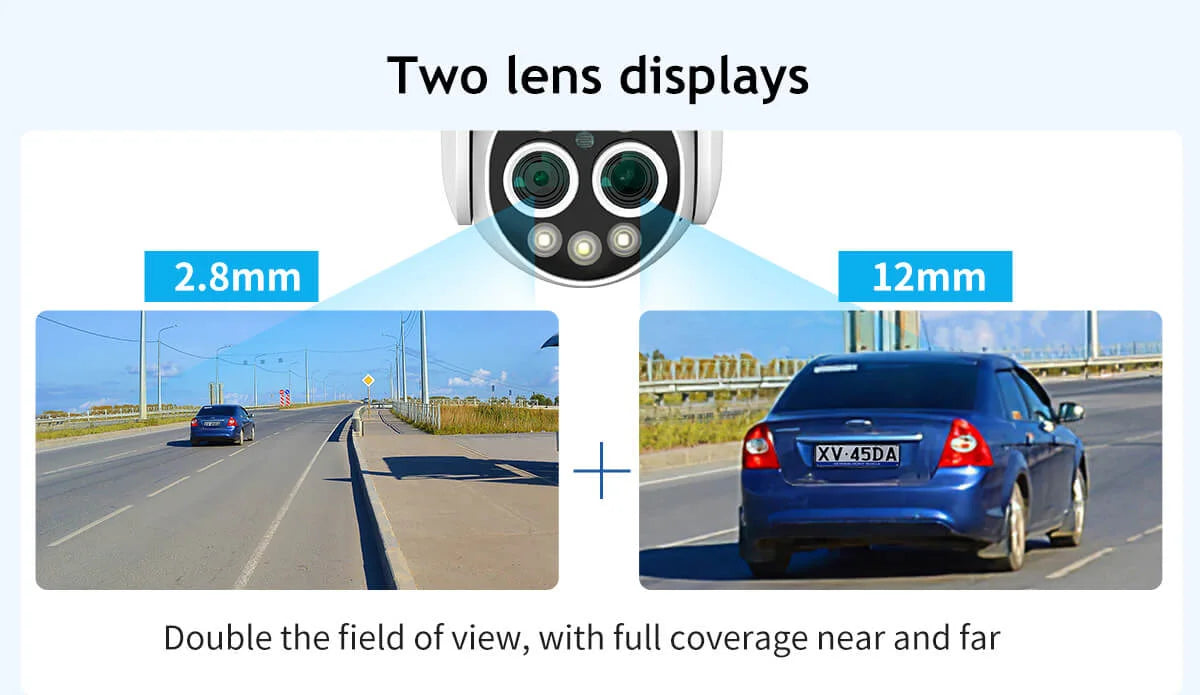 Dual-lens security cameras offer several advantages that make them useful and more reliable:
Superior Image Quality:

Dual-lens cameras excel in delivering high-quality images with exceptional clarity and detail. The simultaneous focus of the two lenses on different aspects of the scene ensures that every important detail is captured accurately. This enhanced image quality proves invaluable in surveillance scenarios, where the ability to identify individuals, objects, or license plates can make a significant difference in investigations and security operations.
By leveraging the dual-lens setup, these cameras excel in capturing intricate details that are crucial for law enforcement agencies, businesses, and individuals aiming to enhance their security measures. Whether it is capturing a suspect's face or reading a license plate number, dual-lens cameras ensure that no critical information goes unnoticed.
Immersive Depth Perception:

Human depth perception plays a vital role in how we perceive the world. Dual-lens cameras strive to replicate this essential human ability by utilizing two lenses positioned at a distance from each other. This unique design allows the camera to capture the scene from slightly different angles, mimicking the depth perception capabilities of our eyes.
The result is an immersive visual experience that closely resembles real-life perception. By accurately representing the relative distances between objects in a scene, dual-lens cameras provide images that convey depth and spatial relationships. This added dimension enhances the overall quality of the captured images and enables viewers to gain a more accurate understanding of the scene's layout.
Expansive Field of View:

Compared to cameras with a single lens, dual-lens cameras offer a significantly wider field of view. With two lenses covering different angles, these cameras can simultaneously monitor larger areas or multiple directions. This expanded field of view minimizes blind spots and ensures comprehensive coverage, making dual-lens cameras particularly effective for monitoring large open spaces or multiple areas at once.
The ability to cover a larger area with a single camera simplifies installation and maintenance and provides a cost-effective solution. Dual-lens cameras offer a more efficient way to achieve comprehensive monitoring, reducing the need for multiple cameras to cover the same space.
Exceptional Low-Light Performance:

Low-light conditions should not hinder effective surveillance. Dual-lens cameras address this challenge by incorporating specialized sensors that excel in capturing images in challenging lighting situations. Some models feature one lens equipped with a regular color sensor, while the other lens utilizes a specialized low-light sensor, such as an infrared sensor.
This dual-sensor setup enables dual-lens cameras to perform exceptionally well in low-light environments. The low-light sensor captures more light, resulting in brighter images with reduced noise. As a result, crucial details in darker areas become visible, ensuring that the camera remains effective even when ambient lighting is limited.
Why dual-lens security cameras are better than others?
Advanced Image Processing Capabilities:

To further enhance the quality of captured images, dual-lens cameras often incorporate advanced image processing capabilities. These cameras employ intelligent algorithms that improve various aspects of the captured images, including reducing noise, adjusting dynamic range, and fusing data from both lenses.
By utilizing these image processing techniques, dual-lens cameras produce images with improved contrast, better color representation, and reduced distortions. The resulting images are visually appealing, appearing clearer, more vibrant, and more natural to the human eye. This level of image enhancement enhances the effectiveness of surveillance systems, ensuring that critical details are easily discernible.
Additional Features for Improved Focus and Visibility:

Dual-lens cameras offer additional features that further enhance focus and visibility. These features contribute to the overall performance of the camera and ensure optimal results in various surveillance scenarios.
One such feature is optical zoom, which enables users to zoom in on specific areas without compromising image quality. This feature is particularly useful when capturing fine details or zooming in on distant objects, providing the flexibility needed for effective surveillance.
Another valuable feature found in dual-lens cameras is autofocus. By automatically adjusting focus based on the scene dynamics, these cameras ensure that the captured images remain consistently sharp and clear. This feature eliminates the need for manual focus adjustments and guarantees optimal image quality in various surveillance situations.
Flexibility and Adaptability:

The versatility of dual-lens cameras is a significant advantage that makes them suitable for diverse surveillance needs. With two lenses at their disposal, users can configure the camera setup based on specific requirements.
For example, one lens can be set to capture a wide-angle view for general monitoring, while the other lens can focus on a narrower angle to capture specific details. This adaptability allows dual-lens cameras to be deployed in a wide range of surveillance scenarios, from large-scale systems covering extensive areas to compact setups for home security.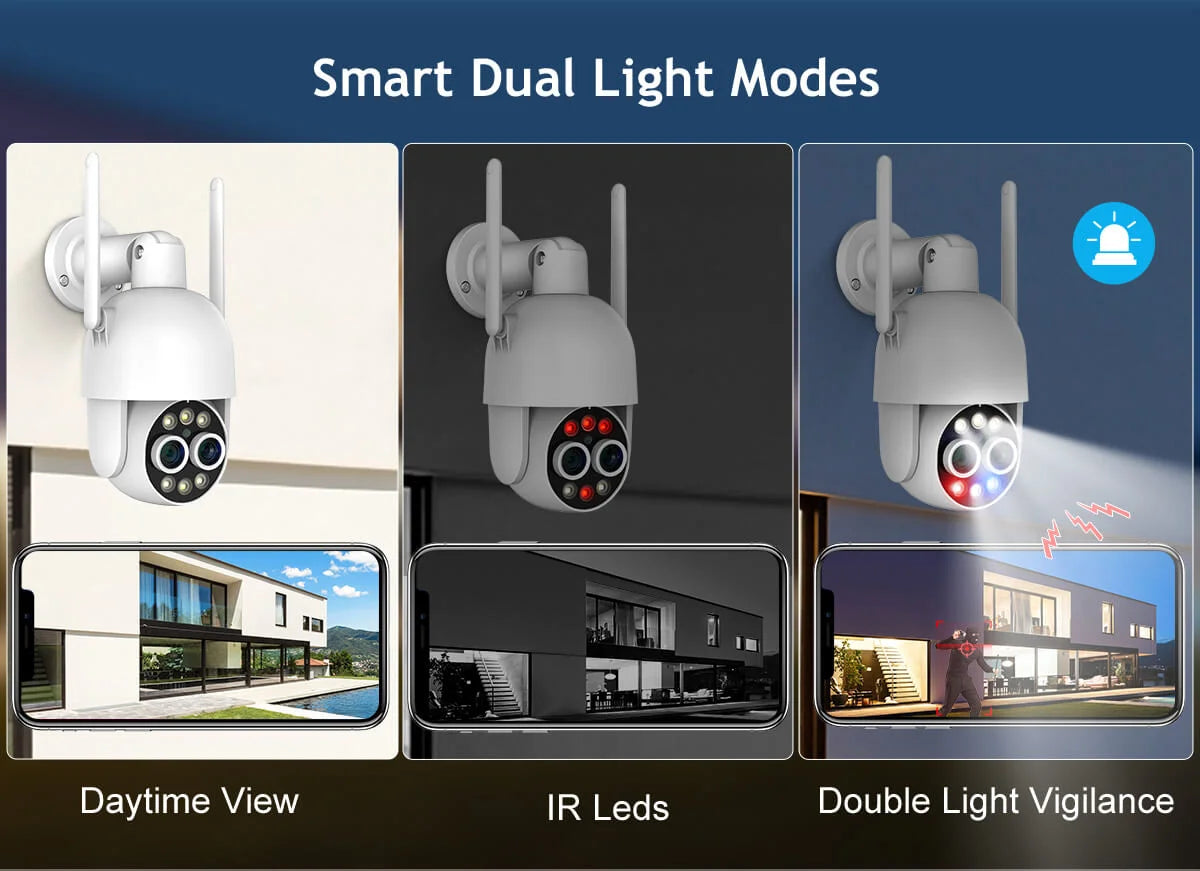 Tips for Choosing the Best Dual-Lens Camera Security System:
Selecting the right dual-lens camera security system is crucial to ensure optimal surveillance effectiveness. With numerous options available in the market, it's essential to consider certain factors before making a purchase. In this section, we will provide valuable tips to help you choose the best dual-lens camera security system for your specific needs. By considering these factors, you can make an informed decision and invest in a system that offers superior focus, visibility, and overall performance.
Determine Your Surveillance Requirements:
Before purchasing a dual-lens camera security system, it's important to assess your specific surveillance requirements. Consider factors such as the size and layout of the area you want to monitor, the level of detail you need in captured images, and the lighting conditions in the environment. This evaluation will help you determine the necessary features and specifications needed in the camera system.
Assess Image Quality and Resolution:
Image quality is a crucial aspect when it comes to surveillance cameras. Look for a dual-lens camera system that offers high-resolution capabilities, ensuring clear and detailed images. A higher resolution allows for better identification of individuals, objects, and license plates. Additionally, consider the camera's image sensor technology, as it plays a significant role in capturing accurate colors and reducing image noise.
Consider Low-Light Performance:
Low-light conditions can pose challenges to surveillance systems. To ensure reliable monitoring even in dimly lit environments, choose a dual-lens camera system that excels in low-light performance. Look for cameras equipped with specialized low-light sensors or infrared capabilities. These features enable the camera to capture clear and well-lit images, providing crucial visibility in challenging lighting situations.
Assess the Camera's Integration and Compatibility:
Consider the integration and compatibility of the dual-lens camera system with other surveillance components and software. Ensure that the system is compatible with your existing infrastructure, such as video management systems and network protocols. This compatibility allows for seamless integration and streamlined operation of the overall surveillance system.
Evaluate Image Processing and Additional Features:
Image processing capabilities enhance the quality and usability of captured images. Look for a dual-lens camera system that incorporates advanced image processing algorithms to reduce noise, improve contrast, and enhance color representation. Additionally, consider additional features such as motion detection, object tracking, and intelligent analytics. These features can further enhance the focus and visibility of the surveillance system.
Conclusion:
In summary, dual-lens security cameras have revolutionized surveillance technology by providing better focus and visibility. These cameras capture sharper, more detailed images, improving identification and analysis. They replicate depth perception, giving a more realistic view of the scene. With a wider field of view, they minimize blind spots and simplify surveillance system design.
Dual-lens cameras perform well in low-light conditions, ensuring important details remain visible. Advanced image processing enhances image quality, making the captured images visually appealing. Exciting innovations lie ahead for dual-lens camera systems, promising enhanced visual storytelling and artistic expression.
Whether for professional or personal use, embracing dual-lens cameras unlocks endless possibilities. They allow users to capture extraordinary moments and create visually stunning masterpieces. Embrace the dual-lens revolution and tap into your creativity. The future of surveillance is here with dual-lens security cameras.