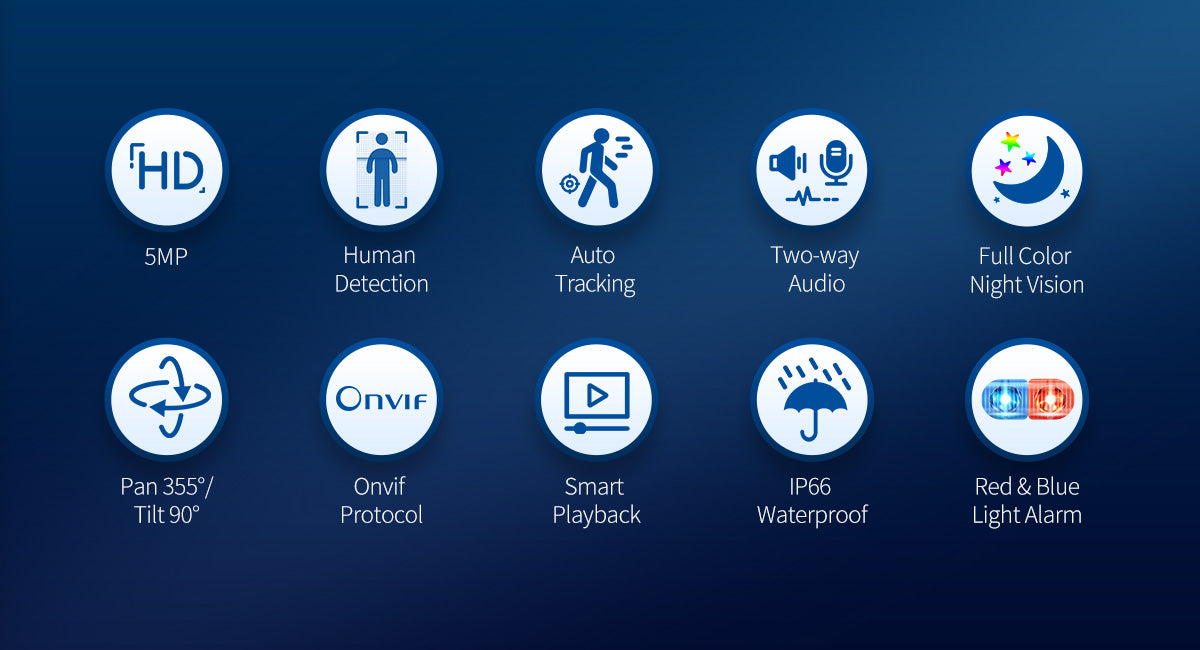 Main Features:
* HD 5MP AI PTZ Camera

* Support up to 128GB TF card storage and Cloud storage, data security is more stable.

* Smart Ai Humanoid Detection: Trigger alarms only when human movement is detected, not when animals, trees and vehicles pass by.

* Human Auto Tracking and Daemon Position Setting: When human detected, the camera will auto track the moving huamn and auto rotate to the daemon position you set.

* Red-Blue Light Alarm: When human detected, the red light and blue light will flash alternately to scare off intruders.

* Two-Way Audio Record: The camera has a built-in microphone and microphone, which can record sound in real time.

* Three Vision Modes Setting : Day Vision, Infrared Night Vision and Full Color Night Vision.

* PTZ: Pan 355°/ Tilt 90° rotation via Remote Control/Auto tracking, support 8X mix zoom.

* H.265 new storage design, TF card storage is lower, more stable and more durable.

*The Techage Wireless Camera System Is Suitable For a Variety Of Occasions,Such As Villa Homes, Offices, Warehouses, Workshops, Restaurants And So On.

* You Can Use Your Mobile App (Android And IPhone) To Watch Everything In Your Home Remotely Anytime Anywhere.

*Kindly Note: The NVR Needs To Be Connected To Home Router Via One Network Cable For Remote Viewing.

* Once a Thief Breaks Into The House, The System Will Automatically Send An Alert To Your Phone And Mailbox.

* Wireless WiFi / Lan Cable Connection Between NVR and Cameras.

Please Note:The Wireless System Doesn't Mean You Can Use The System Without Any Cables. Power Supply Still Needed To Power On The Cameras And Nvr. (You Need Install By Yourself)
                                                 HD 5MP Resolution Camera
Capture more clear images
Two-Way Audio & Audio Record
You will get a camera with true sound reproduction in order to record important sound evidence. And is equipped with high-quality built-in microphones and speakers, which can provide you with a clear and smooth communication experience
                                                         PTZ Remote Control
Rotates 355° Horizontally and 90° Vertically, You can control it in the ICSEE app directly whenever you want and wherever you are.
Smart IR-Cut Full Color Night Vision
The smart IR-Cut filter switches automatically between day and night to reduce color cast in day time and enhance image brightness at night making sure you can get vivid surveillance footage from dawn to dark; Night activating Color onece detecting movement.
Smart Human Auto Tracking & Daemon Position
When somebody move, the camera automatically track the body. When the human disappears from the camera's field of view, the camera will automatically rotate back to the daemon position you set, monitor the position you focus on at all times.
Support Intelligent Humanoid Detection
Only When Someone Pass The Alarm Area , The Camera Will Send Alarm Message , Increase Alarm Accuracy.
AI Human Detection and Red-Blue Light Alarm
At the day time, when human detected, the red light and blue light will flash alternately to scare off intruders, and push APP notification to your phone.
H.265 CCTV System
H.265 More Clear , HD resolution offer you best image quality in a lower bit rate.

Save more storage space,can reduce 40%-50% file size,save your HDD storage space and reduce your purchase cost.
Wireless NVR WiFi Range
100 meters wireless transmission(no obstacle)

Built-in high power wireless router module, support 30-50 meters wireless transmission.
Strong wireless cascade technology
The latest WIFI cascading technology perfectly solves the problem of WIFI signal weakening and instability after long distances and through walls.
How to install this WiFi Camera System?
D                                             
CProduct Display