Why it is better to chose Solar-Powered to use in farm?
With the development of technology,security cameras have become an essential aspect of modern life, providing an extra layer of protection and peace of mind for homes, businesses, and public spaces.   
Now there have different types of security cameras like WiFi camera, PoE Camera,AHD Camera and Solar-Powered Camera.The primary distinction between solar cameras and traditional surveillance cameras can be traced back to the way they derive power. Solar cameras utilize renewable solar energy for their functioning, while traditional surveillance cameras depend on conventional grid electricity. This key difference in power sources is the driving factor behind the growing popularity of solar-powered cameras, particularly in agricultural settings..This is also the main reason why many people chose the Solar-Powered camera to use in farm. Here are some reasons why solar power can be a better option for farms.       
Solar Charging & Built-in Battery : Solar-powered security cameras typically have built-in battery storage that stores the electricity generated by the solar panels. This allows the camera to operate during the night or on cloudy days when solar energy is limited.   
100% Wireless and easy installation: Without needing to be physically on-site to replace or recharge a battery, solar panels give you greater flexibility in protecting your valuables from afar. You can leave town without worrying about the battery knowing that the solar panel has you covered.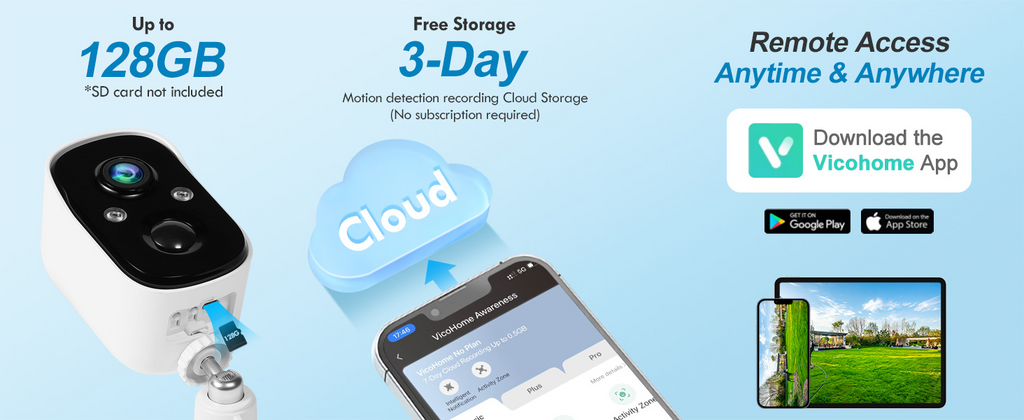 SD Card &Cloud Storage Capability: Solar-powered security cameras often feature cloud storage functionality, allowing users to store and access surveillance footage remotely. This convenient option ensures data is securely backed up and readily available, enabling seamless monitoring from any location. By integrating cloud storage, solar cameras provide a comprehensive, eco-friendly surveillance solution that enhances user experience and simplifies security management.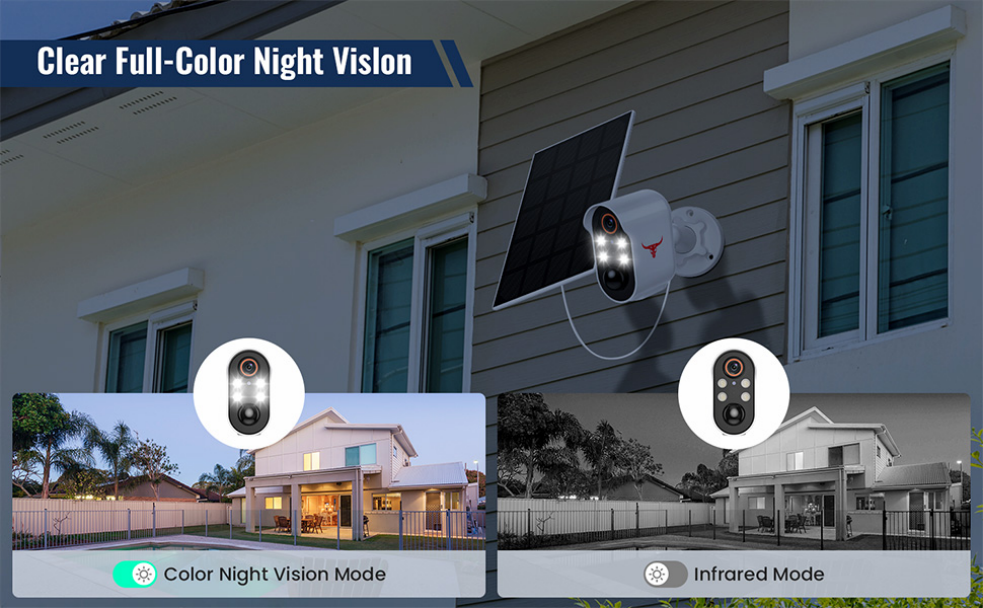 Color Night Vision:The wireless Solar camera features an integrated infrared sensor that automatically adjusts to varying light conditions, ensuring optimal performance in dimly lit environments. The accompanying spotlights, which can be controlled through the app, allow for customizable day and night vision settings, providing users with a tailored viewing experience.
Smart Spotlight Siren Alarm:When motion is detected in the monitoring area, the wireless camera will automatically turn on the spotlight and siren alarm for warning. Accurate real-time notification will send to VicoHome App and the recorded video will store on MicroSD card or Cloud. Work with Alexa.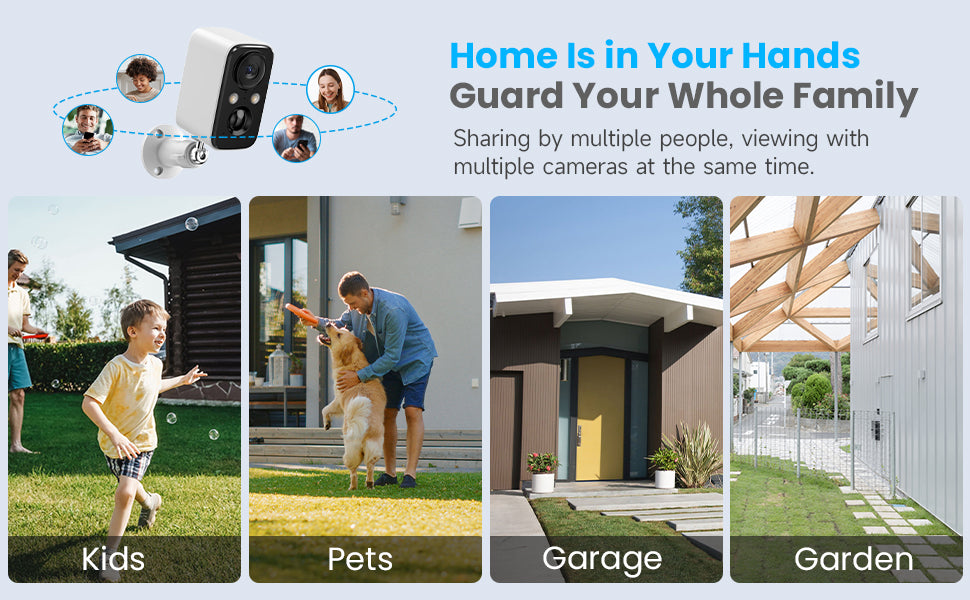 Multi-User Remote Access: Utilizing P2P (Peer-to-Peer) technology, our solar-powered cameras enable seamless plug-and-play installation. Compatible with both iOS and Android devices, users can easily access the system by scanning the provided QR code. Download our complimentary application from the Apple App Store or Google Play for a streamlined experience.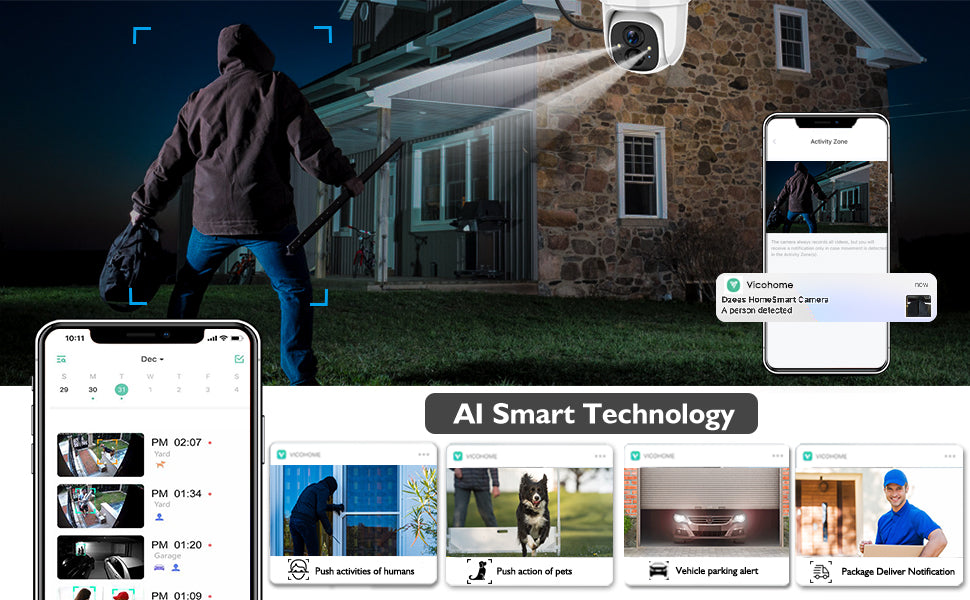 Smart AI Recognition and Playback: Security cameras with advanced AI capabilities offer precise object detection and event playback features. These cameras can distinguish between people, pets, parcels, and vehicles, ensuring targeted and efficient surveillance. By employing intelligent algorithms, the cameras minimize false alarms and enhance the accuracy of monitoring.
The event playback function allows users to quickly review specific incidents, streamlining the analysis of recorded footage. With easy access to relevant events, users can efficiently identify potential security threats or important occurrences. This combination of smart AI recognition and event playback results in a more reliable, user-friendly, and effective surveillance solution tailored to the evolving needs of modern security management.
low power consumption with IP66 Waterproof: Solar battery cameras usually require minimal maintenance, as they do not rely on an electrical grid, and solar panels have a long lifespan. Additionally, their weather-resistant design ensures durability in harsh outdoor conditions.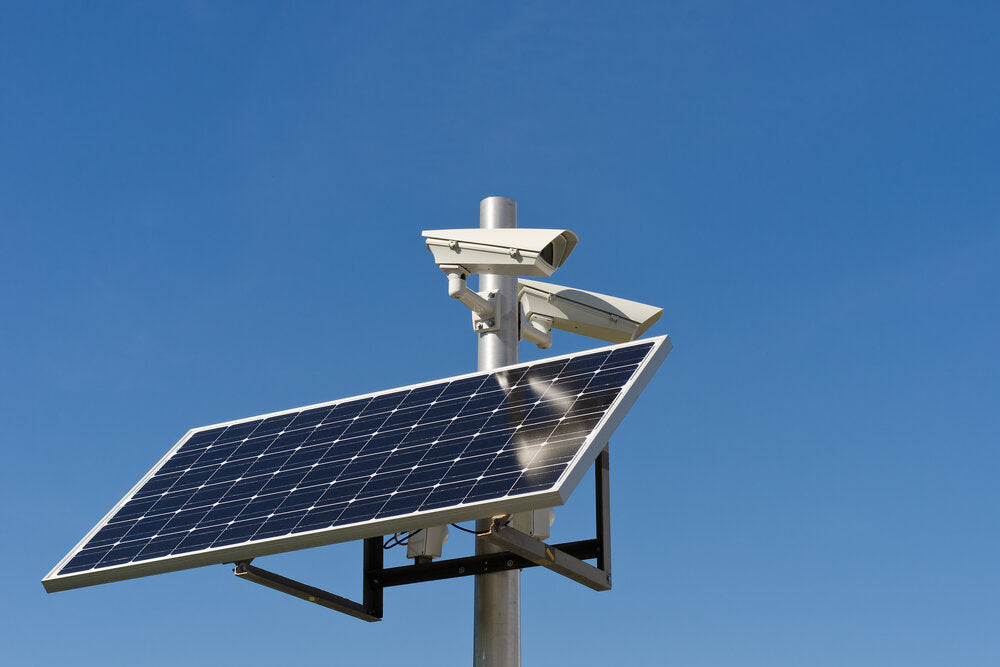 Eco-friendly Security Solution: Solar panels are manufactured by sandwiching silicon wafers between layers of plastic, which does have some environmental impact. However, employing a solar-powered CCTV system can help counterbalance this impact. Rather than relying on grid electricity, solar panels harness sunlight for energy conversion. This is not only beneficial for your finances, but it also contributes to a more sustainable environment by reducing the consumption of fossil fuels.  
Occasionally, clients may inquire whether standard Wi-Fi cameras can be powered using solar panels.To achieve this, you will need a solar panel, a charge controller, a battery, and a DC-to-DC converter. Here's a brief outline of the process:
Solar Panel: Choose an appropriate solar panel with sufficient wattage to power your Wi-Fi camera. Ensure it is positioned to receive ample sunlight for efficient energy conversion.
Charge Controller: Connect the solar panel to a charge controller, which regulates the voltage and current supplied to the battery, preventing overcharging and extending battery life.
Battery: Connect the charge controller to a battery that will store the solar energy generated by the solar panel. The battery capacity should be sufficient to power the Wi-Fi camera during periods of low sunlight or at night.
DC-to-DC Converter: Wi-Fi cameras typically require a specific voltage to operate. Use a DC-to-DC converter to convert the battery output voltage to the required voltage for your camera.
Connect the Camera: Finally, connect the output of the DC-to-DC converter to your Wi-Fi camera, ensuring a stable power supply from the solar energy system.
Keep in mind that the success of this setup depends on the camera's power requirements and the solar panel's ability to generate enough energy. It's important to consider local weather conditions, daily sunlight hours, and potential shading when designing a solar-powered system for your Wi-Fi camera.
Solar power is garnering significant attention as an alternative energy source, and for good reason. Its capacity to supply electricity to surveillance cameras in locations where installing cables would be prohibitively costly or excessively complex makes solar power an attractive option.