Can You Use Different Brand Cameras With Hikvision NVR?
Hikvision Network Video Recorders (NVRs) offer several advantages that make them a popular choice for video surveillance systems.
Here are some key advantages of Hikvision NVRs:
High-Quality Video Recording: Hikvision NVRs are designed to provide high-quality video recording and storage for IP cameras. They support various resolutions, including Full HD and 4K, ensuring crisp and clear video footage.

Easy Integration with Hikvision Cameras: Hikvision NVRs are specifically optimized to work seamlessly with Hikvision IP cameras. This integration ensures better compatibility, streamlined setup, and access to advanced camera features.

ONVIF Support: While Hikvision NVRs work best with Hikvision cameras, they also support cameras from other brands that comply with the ONVIF standard. This allows for greater flexibility when building a surveillance system using different camera brands.

Built-in PoE Ports: Many Hikvision NVR models come with built-in Power over Ethernet (PoE) ports. These ports supply power to the connected IP cameras through the same network cable used for data transmission, simplifying the installation process and reducing cable clutter.

Remote Viewing and Management: Hikvision NVRs support remote access, allowing users to view live and recorded video footage from anywhere using a computer, smartphone, or tablet. This feature is especially valuable for monitoring and managing a surveillance system on the go.

Smart Features and Analytics: Hikvision NVRs often come equipped with smart features and video analytics capabilities. These can include motion detection, line crossing detection, intrusion detection, and face recognition, providing advanced functionalities for security and business intelligence purposes.

Reliability and Stability: Hikvision is a well-established and reputable brand known for producing reliable and stable surveillance equipment. Their NVRs are built with high-quality components, ensuring consistent performance and minimal downtime.

Scalability: Hikvision NVRs offer scalability, allowing you to expand your surveillance system by adding more cameras as needed. They come in various channel configurations to accommodate different numbers of cameras.

User-Friendly Interface: Hikvision NVRs typically have user-friendly interfaces that are easy to navigate and configure. This makes them accessible to both professional installers and end-users.

Integrations and Third-Party Support: Hikvision NVRs can integrate with other security systems and third-party software, providing a more comprehensive and unified security solution.
It's important to note that the advantages of Hikvision NVRs are most evident when used with Hikvision cameras due to the optimized compatibility and feature set. However, they can still be a viable option when integrating cameras from other brands that support the ONVIF standard.Especially when you have budget constraints, you can opt to purchase cameras from other brands with similar functionalities as an alternative to Hikvision cameras.
Tips To Chose IP Camera For Hikvision NVR
ONVIF Compatibility: Check if the cameras are ONVIF compliant. ONVIF is a global standard that allows interoperability between different brands of IP cameras and NVRs. ONVIF-compliant cameras should work with Hikvision NVRs.

Matching Resolutions and Frame Rates: Ensure that the cameras' resolutions and frame rates are supported by the Hikvision NVR. Mismatched resolutions and frame rates could lead to compatibility issues or limited performance.

Video Encoding Formats: Confirm that the cameras use compatible video encoding formats supported by the Hikvision NVR. Common formats include H.264 and H.265.

Firmware Updates: Keep the firmware of both the cameras and the Hikvision NVR up to date. Manufacturers often release firmware updates to improve compatibility and fix potential issues.

Functionality and Features: While basic video streaming should work with ONVIF compliance, certain advanced features specific to certain camera brands may not be fully supported by the Hikvision NVR. Test the cameras' specific functionalities to ensure they meet your requirements.

Testing and Integration: Before deploying the cameras in a critical application, perform thorough testing to ensure they integrate well with the Hikvision NVR and function as expected. Check live streaming, recording, playback, and any specific features you require.

User Support and Resources: Ensure that the camera manufacturer provides adequate technical support and resources in case you encounter any compatibility issues or need assistance.

Keep a Mix of Brands in Mind: If you plan to use cameras from different brands, consider having a mix of camera brands rather than relying solely on one brand. This approach provides redundancy and can help mitigate compatibility issues.
How Techage Cameras Work With Hikvision NVR
How to add Techage camera on Hikvision NVR?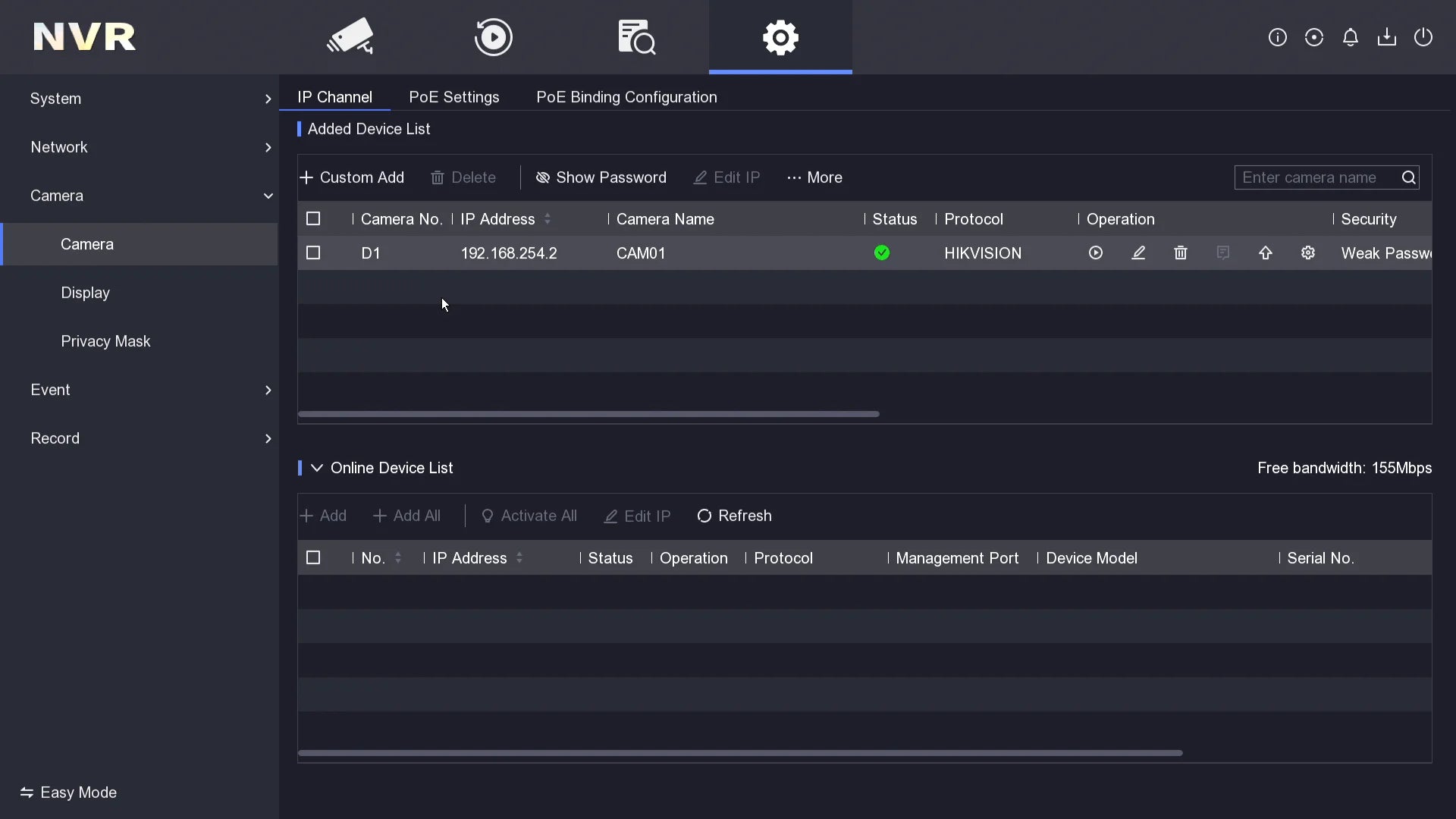 Techage PoE cameras support onvif and Hikvision protocol, that means you only need to plug our poe cameras to Hikvision PoE NVR port by internet cable,then go to NVR's quick set menu to search to show image.Most of WiFi cameras supports onvif protocol, please keep camera with power adapter and connect to same network, then you can detect them by onvif protocol to add too.
How to set up recording on Hikvision NVR?
1.Access the NVR Interface:
Connect your NVR to a monitor using HDMI or VGA, or access it through a web browser using its IP address.Enter your NVR's username and password to log in.
2.Navigate to the Recording Settings:
Once logged in, go to the "Configuration" menu.
Under "Storage," select "Disk Management" or "HDD Management" to ensure you have a properly installed and initialized hard drive for recording.
3.Create a Camera Channel or Recording Group:
Go to the "Camera" or "Camera Management" section.
Here, you can add individual cameras or create recording groups to manage multiple cameras together.
4.Configure Recording Parameters:
After selecting the camera channel or recording group, click on "Recording" to access the recording configuration options.
Adjust the following parameters according to your preferences:Record Type: Choose the type of recording you want (Continuous, Motion Detection, Alarm, etc.).
Stream Type: Select the desired video stream quality for recording (main stream, sub-stream, or both).
Schedule: Specify the time frame during which you want recording to be active. For example, you might want 24/7 continuous recording or only record during specific hours.
5.Save Settings:
After configuring the recording parameters for each camera or recording group, click on the "Save" button to apply the changes.
6.Set Up Pre- and Post-Event Recording (Optional):
Some Hikvision NVRs allow you to set up pre- and post-event recording. Pre-event recording captures footage before the actual event occurs, while post-event recording continues to record after the event ends. This can be useful for capturing critical moments leading up to an event.
Look for "Pre-record" and "Post-record" settings in the recording configuration, and adjust them as needed.
7.View Recorded Footage:
To access the recorded footage, go to the "Playback" section.
Select the camera channel or recording group and specify the date and time range to search for recorded events.
You can then view, search, and export recorded footage as needed.
How to turn on and set up motion detecton on Hikvision NVRs?
1.Access the NVR Interface:
Connect your NVR to a monitor using HDMI or VGA, or access it through a web browser using its IP address.
Enter your NVR's username and password to log in.

2.Navigate to the Motion Detection Settings:
Once logged in, go to the "Configuration" menu.Under "Basic Configuration," select "Event."

3.Enable Motion Detection:
In the "Event" section, find "Basic Event" or "Video Detection" settings, depending on the NVR's firmware version.Locate the "Motion Detection" option and enable it.

4.Set Up Motion Detection Parameters:
Click on "Motion Detection" to access the configuration options.
Adjust the following parameters according to your preferences:Sensitivity: Determines the level of motion required to trigger an event. Higher sensitivity means even minor motion will trigger an alert.
Area or Region: Define specific areas in the camera's view where you want to enable motion detection. This helps reduce false alarms from areas with constant motion.
Schedule: Specify the time frame during which you want the motion detection to be active. For example, you might only want it enabled during nighttime hours.
Action: Decide what should happen when motion is detected. Options may include recording, sending email alerts, or triggering an alarm output.
5.Save Settings:
After adjusting the motion detection settings, click on the "Save" button to apply the changes.

6.Set up Notifications (Optional):
If you want to receive notifications when motion is detected, you can configure email alerts or push notifications through the Hik-Connect app or other compatible services.

7.Test the Motion Detection:
To ensure everything is working correctly, test the motion detection by moving within the camera's view. Verify that the NVR records the motion and triggers any set actions or notifications.

Before purchasing a third-party camera to use with a Hikvision NVR, it's a good idea to check the camera's specifications and ensure it supports ONVIF profiles compatible with your NVR model. Additionally, consult the camera and NVR's user manuals or contact their respective manufacturers for any specific compatibility considerations or limitations.

Any problem, please feel free to contact us!